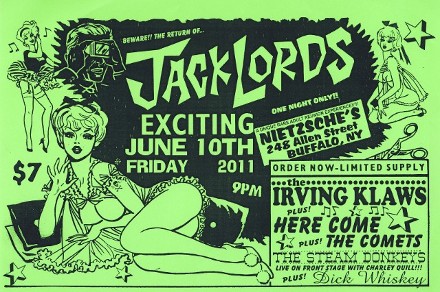 Coming soon to Buffalo, NY:
The JackLords LIVE - performing one show only - at Nietzche's on Allen Street, Buffalo, NY on Friday, June 10th, 2011 !!!! With the Irving Klaws and Here Come the Comets!
The last JackLords LIVE performance, on November 30, 2002 was a huge blast! The joint was jumpin'! Ask anyone who was there!
Buffalo's big n' loud Doombuggy played before us, and Rochester's rockabilly greats the Frantic Flattops played afterwards!

Thank you Joe Rubino, Doombuggy, the Frantic Flattops, and everyone else for supporting us and letting us entertain you and having a great time!

For photos of the last re-union show, you can go to the following web site (but hurry, I don't know how long they will be up...):

http://homepage.mac.com/vanrysdam/PhotoAlbum10.html

What a great party!

What a great time will be had by all on June 10th, 2011 at Nietzche's !! You've got to come!
The JackLords music is now accessible to all!
For free listening and free MP3 downloads, go to www/myspace.com and search: "JackLords". The entire "Mother's Rock" album (except for the cover songs) are available!
Other songs will soon be added! Music for the people!
The JackLords are now on Youtube!! At: http://www.facebook.com/l.php?u=http%3A%2F%2Fwww.youtube.com%2Fwatch%3Fv%3Dv0Qf_9si0PU&h=e54e1